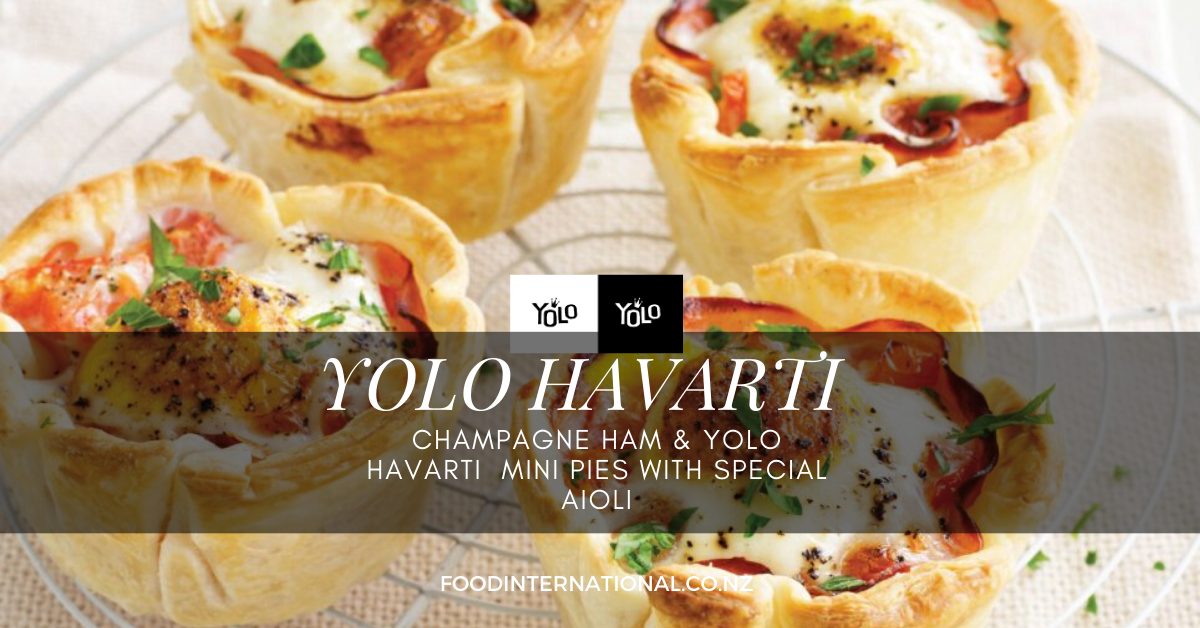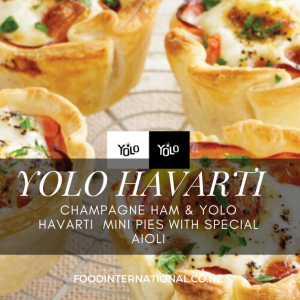 CHAMPAGNE HAM & YOLO HAVARTI Mini Pies with Special Aioli
Notes
Mustard & Rosemary Aioli
Ingredients:
6 tablespoons mayonnaise
1 tablespoon Dijon mustard
1 tablespoon wholegrain mustard
2 tablespoons olive oil
1 teaspoon lemon juice
 1 garlic clove
1/4 teaspoon sea salt
1 teaspoon fresh rosemary leaves
Ham and Havarti  Mini  Pies
Ingredients:
1 package o flaky puff pastry
 About  150 gms Champagne ham cut into small squares (about 120 cms)
YOLO Havarti cheese, sliced thin (shred about 1 tablespoon for topping)
 1 egg, beaten
Rosemary leaves for garnish
Aioli
Instructions :
Mini Pies
Instructions:
Preheat the oven to  220C (or according to the pastry's package directions).
 Lightly dust a work surface with flour.
Unroll one of the pastry sheets.
Use a round cookie cutter ( about 10 cms or a similarly-sized round object ) to cut out as many circles as possible (you'll need two circles for each pie).
 Gather up the scraps of  pastry  and roll them to about  3mms thick.
 Cut out more circles, and continue until all the pastry is used.
 Place half the circles on the baking sheet.
Spread about 1/2 teaspoon of the aioli onto the center of the circle.
Add 1 slice of YOLO Havarti cheese to the centre, then top with a few pieces of the ham, mounding the ingredients
Moisten the outer edge of the circle with wet fingers
 Use another circle as the cover.
Wet the outer edges of that one, too, and place the wet side down over the top of each circle on the pan.
Press the edges together tightly to seal the pies.
 Lightly brush each hand pie with the egg.
 Use a sharp knife to cut a small "X" into the centre or Y for YOLO!
Sprinkle just a few pieces of the shredded Yolo Havarti over the top
Continue with the remaining pastry and ingredients.
Bake for 13-15 minutes, or until golden, rotating once.
Cool on a wire rack.
Serve garnished with rosemary leaves.
YOLO  Goat Cheese/Chevre Dip
200gm YOLO  French Goat's Chevre Natural Cheese
3 tablespoons natural Greek yoghurt
Juice from ½ lemon
2 tablespoons Olive Oil  (Top Quality Extra Virgin)
Pinch sea salt
Pinch of Cayenne pepper as garnish
Finely chopped fresh herbs such as mint, parsley or oregano
Mix all ingredients together and adjust seasoning to taste.
Serve with crunchy vegetables (such as carrots and radish) along with crackers or toasted Pita Bread
YOLO Danish Creamy Blue Cheese and Broccoli Soup
Two tablespoons butter
2 chopped onions
2 cloves of garlic, crushed
2 head of broccoli – chopped roughly
1 kumara – diced
1 litre of top quality chicken stock or broth
100g YOLO Danish Creamy Blue Cheese.
Salt and pepper to taste.
In a large pot, melt butter, Add onions and garlic – cooking for five minutes to soften but not brown.
Simmer and cook until kumara is totally soft.
Put in blender and whizz until a smooth consistency.
Crumble in cheese, keeping some aside for garnish.
Serve bubbling hot with more cheese melted on toast.