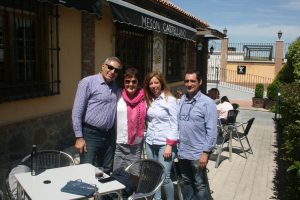 Adel's serious scouting for Spanish products began the day after we arrived in Madrid – on May 1 a national holiday for Labour Day. On Wednesday morning we drove to the beautiful town of Zaragoza in the province of Aragon for his first meeting with an olive company, Jose Lou.
The photo shows us both with Matie Lou, who runs the company with two cousins. The business was started by her grandfather in 1833 with a factory in the old medieval part of Zaragoza. It was relocated to a modern industrial zone in the 1980s.
Jose Lou handles a huge range of different varieties of olives – many grown locally and not available in other parts of Spain. The company also employs many different techniques for the production and sales of their olives from using many varied marinades (including an assortment of herbs grown in the region) to several stuffed options and mixes with other pickled vegetables.
A product that could do really well in New Zealand (Adel reckons) is a natural black olive (Empeltre) which is small, fleshy and has a tiny stone. It is sold in 210 gm glass jars – without liquid – and has a shelf life of up two years. No worries about the olive brine spilling through your picnic baskets or tipping through your fridge contents.
A unique green olive, which is synonymous with the region and a great favourite in tapas bars is the Campo Real. We've been trying to source this kind of green olive for New Zealand since trying it in Madrid on earlier trips. And Jose Lou will be able to provide us with this for food service and retail.
We can already visualise these amazing olives on our shop shelves and starring in local pantries 
Exciting times ahead for Food International. YOLO will be expanding to olives to complement our European cheeses. The perfect Mediterranean match.
So the mountain of samples to be hauled back home is building already – along with serious olive samplings for us both. Not complaining though! They are seriously delicious.