KIWIS AT 32nd Salon De Gourmets Expo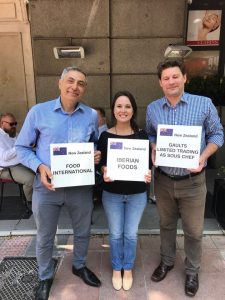 Adel, Amelia and Damon – NZ delegation in Madrid.
Representatives from three New Zealand companies were among the 130 buyers invited from 30 countries to attend this year's Salon de Gourmets (the 32nd) in Madrid.
Food International was represented by Adel Yousef, while Amelia Farras-Knowles attended for Iberian Foods and Damon Kinley was there for Sous Chef.
More than 90,000 visitors enjoyed the vibrant atmosphere of the show held over four days.
The three Kiwis were all most impressed by the organisation of the expo and the tremendous hospitality of their Spanish hosts They all left after making many business contents and prospects for products to launch at home.
"We all worked well together with real respect for each company's integrity – every business has their own areas of expertise and interest. We even discussed co-operating on shipping – all good news fr the end consumer," Adel says.
Show Stats:
1600 exhibitors
40,000 products
130 buyers from 30 countries
2600 meetings