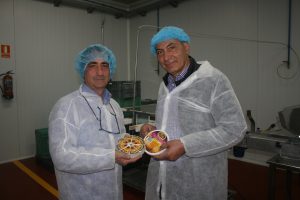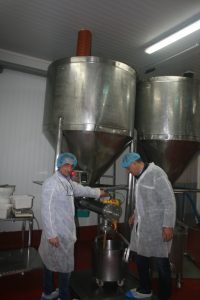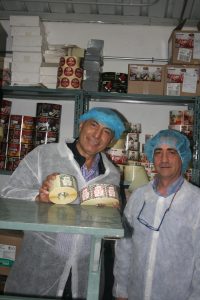 Would you prefer your YOLO fig fruit paste with or without seeds? What fruit will we combine with the mulberry for another fruit paste option? On Friday we sat down with the owners of Laguaparts Alimentacion to nut out new ideas for our YOLO fruit pastes.
We had a very productive exchange of ideas ("yes, we'd leave the seeds in the fig paste … gives a more natural and rustic appeal") with owners, Mar Lavin Sanchez and Javier Garcia Gonzalez, followed by a factory tour and a typically long Spanish lunch. Totally enjoyable.
We left Zaragoza early for the 4-hour trip to the factory near Toledo. The motorway system is so impressive ("with a surface as smooth as silk," Adel raves), and it all runs so fluidly. Can't say the same for the dialogue between the driver and me as a navigator. Even with GPS, I'm challenged. But, then it is a female thing. Right?
Adel's been doing business with these delightful fruit paste people for more than five years. Their fruit pastes have been very successful and sell well in New Zealand. Now we are going to expand the range on offer.
Mar and Javier took over the company in the 1980s with the guidance of Mar's father, Emilio who had worked in the industry for many years. They started on a small scale, but as business flourished had a new factory built near Toledo 15 years ago. With a staff of 12, they now export their fruit pastes to several European countries, USA, Dubai, Mexico, Colombia and Australia. And we were one of their first export customers. 
We were really impressed with their immaculate factory facilities and they adhere to a very strict food safety programme. See the photographs of our grand tour and later lunch.
At Food International, we like working with this dynamic couple and love their products, which are consistently great. The pastes are just the right consistency, level of sweetness and flavour profile to make our YOLO cheeses sing!
We'll be coming to you with more flavours and possibly different sizes soon. The 140 gm packs are produced exclusively for Food International.
And just a footnote: Holy Toledo, the historic town of Toledo is truly magnificent. We had a night there and want to go back…
Adios for now